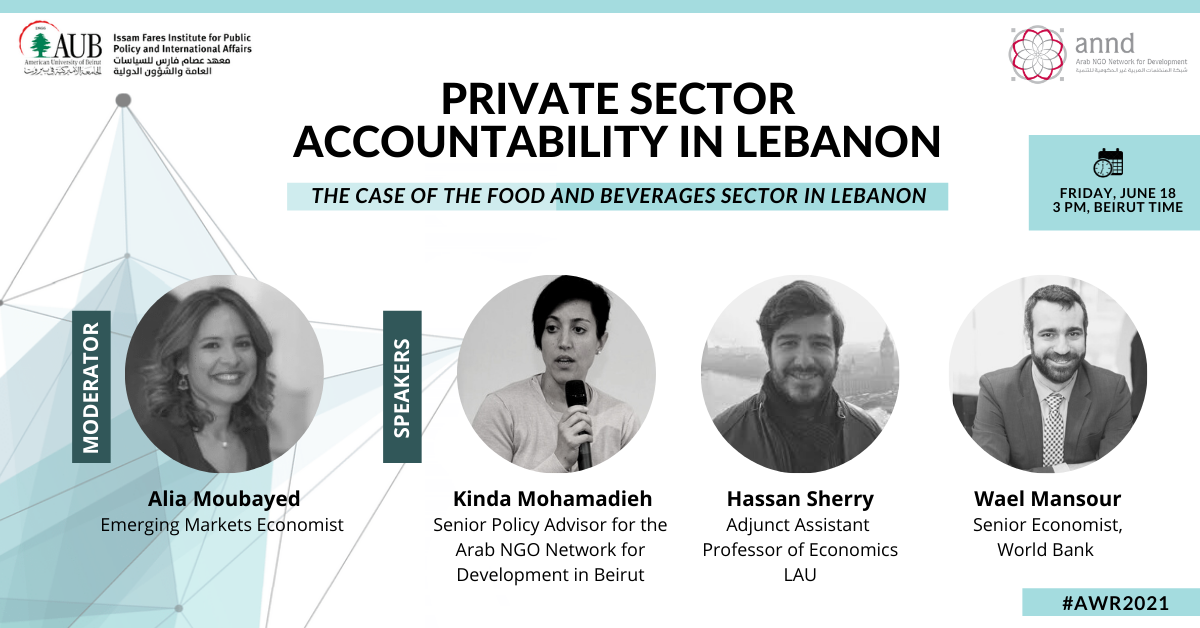 Jun 13, 2021
Private Sector Accountability in Lebanon: The Case of the Food and Beverages Sector in Lebanon
Private Sector Accountability in Lebanon
The Case of the Food and Beverages Sector in Lebanon
The Issam Fares Institute for Public Policy and International Affairs at the American University of Beirut (IFI) and the Arab NGO Network for Development (ANND) organized an online consultation meeting/webinar on the private sector accountability in Lebanon on Friday, June 18, 2021.
The meeting aims to discuss the Lebanon report of the Arab Watch Report (AWR), produced by ANND, titled "Aligning Business with Sustainable Development, the Case of the Food & Beverages Sector in Lebanon". The study seeks to assess how the private sector, particularly the Food and Beverages (F&B) industry, positively contributes to the attainment of the sustainable Development Goals, and the role of the Lebanese government in providing a conducive environment for investment and private sector development. It also aims to analyze public policies and their impact on the human rights systems and social justice in general.
The significance of this discussion lies within the increasing role of businesses in the public sphere and developmental processes. This trend resulted from the wave of privatizing what has been traditionally a public function, such as education, health service, and pension schemes. Furthermore, specifically, in the Arab region, when assessing the role of the private sector the discussion is deviated towards foreign investment with little or no concern to how it affects locals negatively. Should these investments lead to sustainable development, they should be accompanied by proper standards that reflect on its quality as well.
Every two-years, ANND produces the Arab Watch Report (AWR), which is a major research process involving a group of researchers, academics and activists focusing on a specific economic and social right issue. The current AWR project on Private Sector Accountability in the Arab world is expected to be launched in July 2021 and covers 10 Arab countries including Lebanon.
Moderator:
Alia Moubayed
Emerging Markets Economist
Speakers:
Wael Mansour
Senior Economist,
World Bank
Hassan Sherry
Adjunct Assistant Professor of Economics,
LAU
Kinda Mohamadieh
Senior Policy Advisor,
Arab NGO Network for Development in Beirut (ANND)