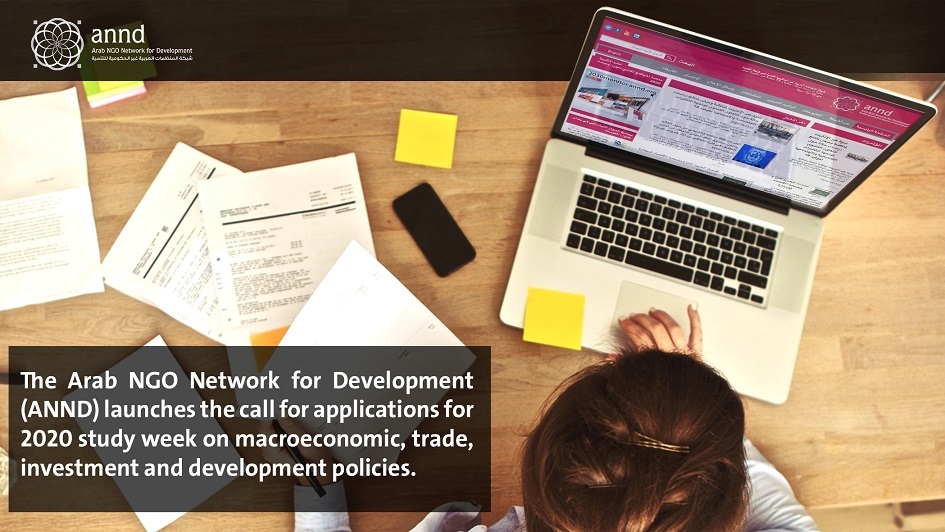 Oct 21, 2020
CALL FOR APPLICATIONS: 2020 STUDY WEEK OPEN TILL OCTOBER 27TH
The Arab NGO Network for Development (ANND) launches the call for applications for 2020 study week on macroeconomic, trade, investment and development policies.
This year, in response to the pandemic and isolation measures put in place in most countries, the study week 2020 will be organized through online sessions. The sessions will be scheduled over three weeks; with two sessions per day held in the morning and afternoon and 3 days in a week (a total of 15 sessions planned)Sessions with international and regional experts will open up spaces for enriching discussions and debates on various themes including free trade, investment, debt, tax, climate change among others. The discussions aim to contribute to the understanding of alternative development paradigms. 
The sessions will be organized in English and the study week is planned to start by the last week of November 2020.
If you are interested, please send an updated CV and a short cover letter (max 500 words) in English to Zahra Bazzi: 

[email protected]

, Bihter Moschini: 

[email protected]

  accompanied with a short letter from your actual employer explaining your role at the organization and indicating consent for your engagement to the study week for over three weeks duration.