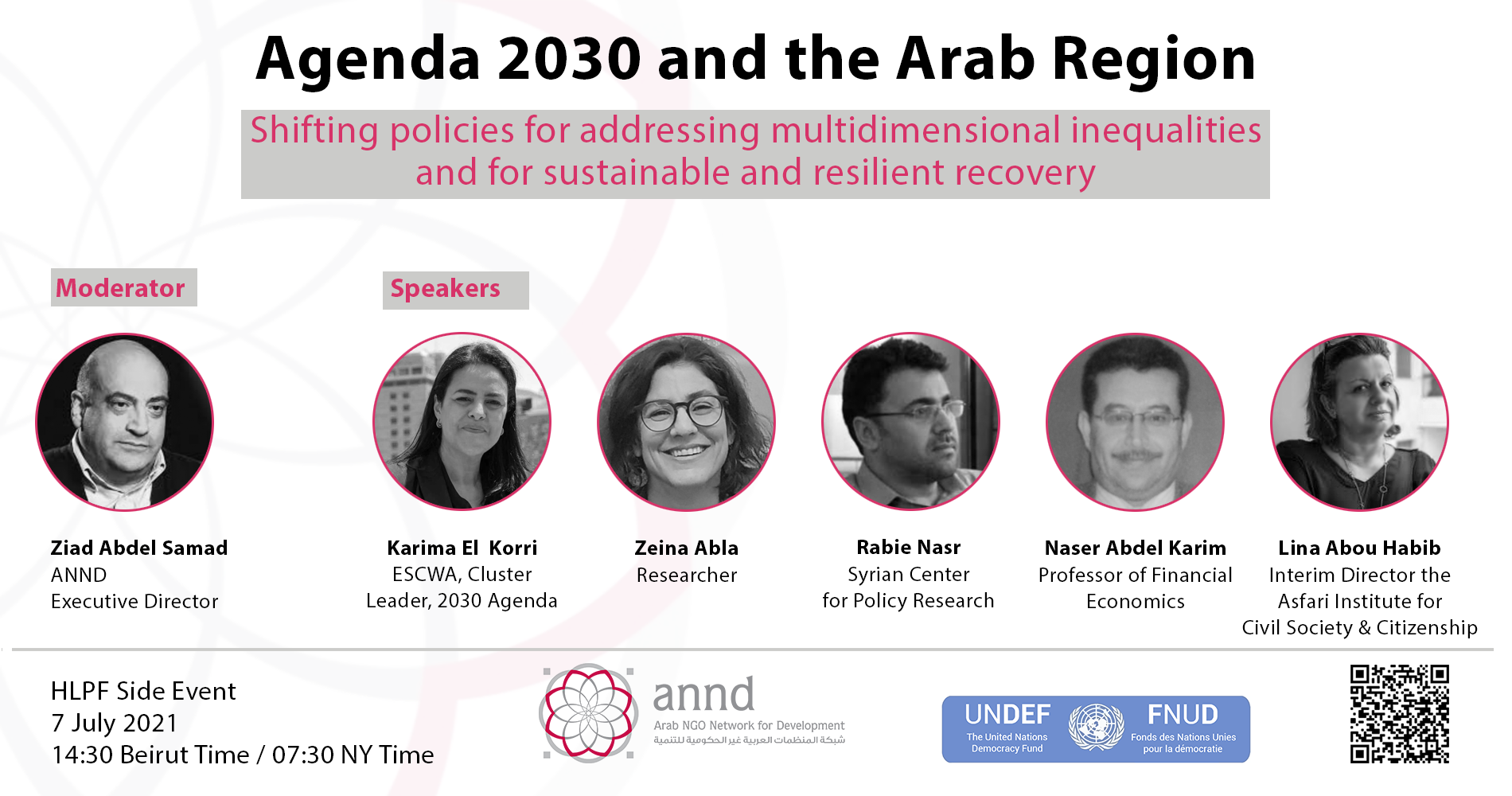 Jul 05, 2021
HLPF Side Event: Agenda 2030 and the Arab Region
HLPF Side Event
Agenda 2030 and the Arab Region: Shifting policies for addressing multidimensional inequalities and for sustainable and resilient recovery
Brief description:
Multidimensional inequalities in the Arab region, together with discrimination, exclusion and marginalization are structural and systemic. They are deepened within the international system's failures and in light of the social and economic policies implemented in the region. The COVID-19 pandemic shed light and increased this economic, social, environmental, and political burden and revealed social, economic, health, and political inequalities, weak social structures, and the inability of governments to respond to challenges in almost all Arab countries. The side event will focus on SDGs 1,2, 3, 5, 8, 10, 16 and 17. It will present the regional situation on the multidimensional inequalities and ways to address them focusing on critical issues of conflict and wars in the region, governance and civic participation and the role of private sector and corporate capture.
For sustainable and resilient recovery in the region, the side event will try to address:
• What changes are needed to reclaim public policy spaces to ensure human rights protection?
• Which policy revisions are needed to ensure leaving none behind, ensuring social justice and human dignity in the region?
• How can we enhance inclusive and participatory processes to address the root causes of inequalities?
Moderator: Ziad Abdel Samad-ANND Executive Director
Karima El Korri Cluster Leader, 2030 Agenda, UN. Economic and Social Commission for Western Asia (ESCWA)
• What is the outcome of the Arab Forum on Sustainable Development 2021?
• What are the main highlights for the HLPF?
Zeina Abla- Researcher
• What role the private sector plays in development in the region?
• How can we ensure private sector accountability?
Rabie Nasr- Syrian Center for Policy Research
• How can we ensure development-peace nexus in the region amid occupation, war and persistent conflicts?
• What are the key issues of concern within the intensity of the armed conflict, deterioration of governance levels, violations of social and economic rights
Naser Abdel Karim- Professor of Financial Economics-Arab American University
• What does resilience and recovery mean for Palestine?
• What are the development costs of occupation? What is needed?
Lina Abou Habib- Interim Director the Asfari Institute for Civil Society and Citizenship at the American University of Beirut
• Between existing gender and other inequalities, how can we ensure a feminist bailout in the region contributing to achieving sustainable development?
HLPF Side Event
7 July 2021
07:30-09:00 NY Time
14:30-16:00 Beirut Time