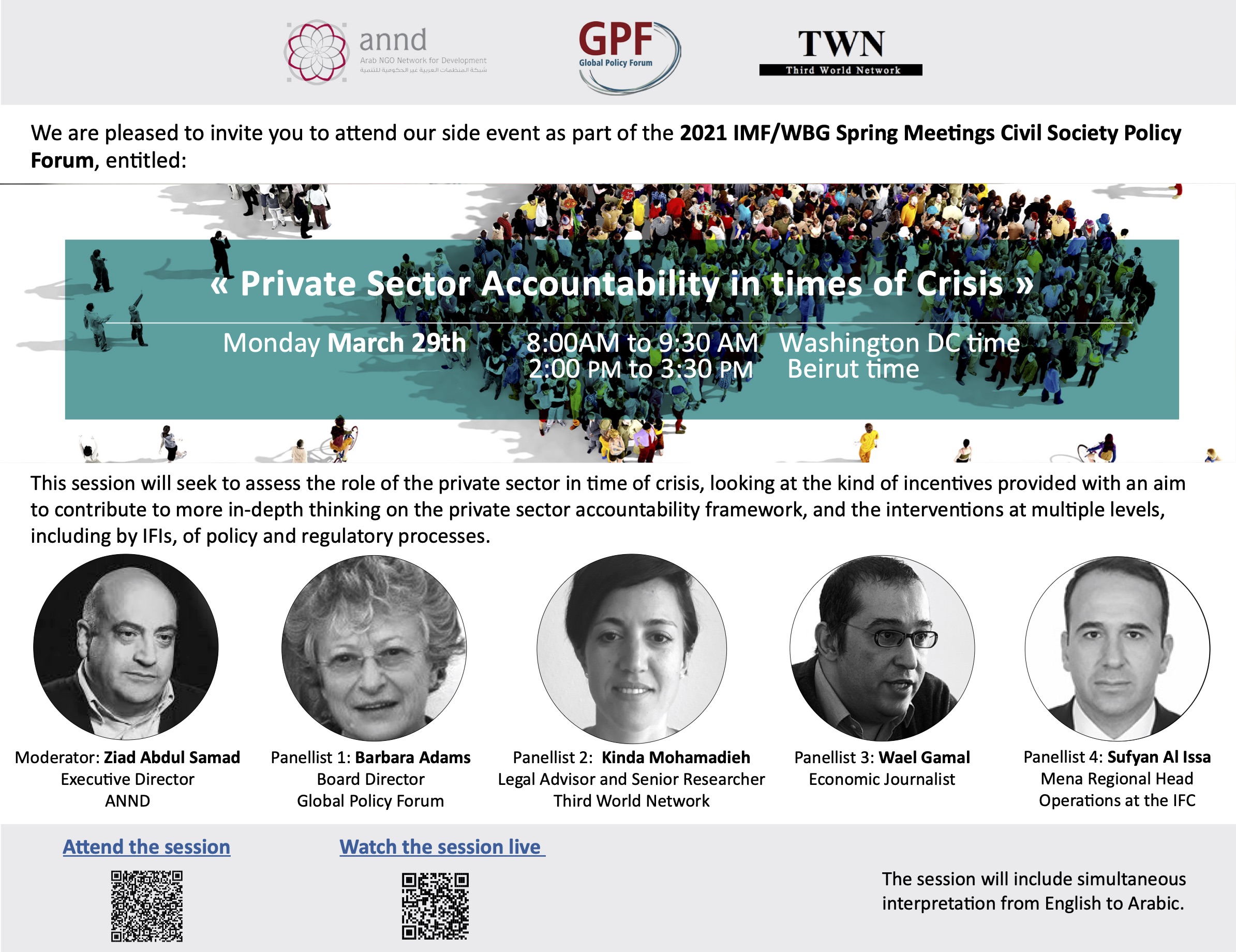 Mar 26, 2021
Private Sector Accountability in Times of Crisis
2021 IMF/WBG Spring Meetings
Civil Society Policy Forum
Private Sector Accountability in Times of Crisis
March 29th, 2:00 – 3:30 PM, Beirut Time


Overview
When discussing the issue of investments in the Arab region, there should be a proper distinguish between domestic and foreign investment, especially when addressing the role of the private sector. Usually, the discussion is turned towards foreign investment, with very little concern to how it affects local competition, like SMEs and local production. Also, should these investments lead to sustainable development, they should be accompanied by proper standards that reflect on its quality as well.


Goal
This session will seek to assess the role of the private sector in time of crisis, looking at the kind of incentives provided with an aim to contribute to more in-depth thinking on the private sector accountability framework, and the interventions at multiple levels, including by IFIs, of policy and regulatory processes.
Moderated by:
Ziad Abdul Samad, Executive Director - ANND



Panelists

Barbara Adams, Board Director, Global Policy Forum
- International narrative when it comes to the role of the private sector
- How IFIs are pushing this mainstream narrative
- Present cases where investment did not in fact lead to development by highlighting examples from "the spotlight report", reflection group


Kinda Mohamadieh, Legal Advisor & Senior Researcher, Third World Network
- What standards should be adopted by the private sector so that proper investment will lead to sustainable development
- Standards and criterion relevant to the Arab region
- Themes from the Arab Watch Report "Development, the State and the Role of Business: Considerations in the way towards Effective Accountability"


Wael Gamal, Economic Journalist
- What are some of the alternatives economic models that can be embraced to achieve development in the region?


Sufyan M. Issa, MENA Region Head Operations, IFC
- Role of intervention done by IFIs to promote investment and push for sustainable development in the region
- What are some of the challenges faced when trying to achieve development through investment, within the Arab Region
- React to the presentation/discussion of the above panelists, bring the perspective of IOs and their position regarding private sector accountability


Click here to attend the session

Click here to Watch the session live